Apoquel for Dogs – Uses, Dosage, Side Effects & Alternatives
Date Published: 2019-03-30
Date Updated: 2019-03-30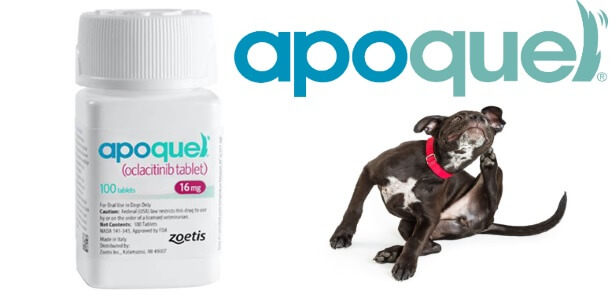 Allergy season is always right around the corner for some of us, considering we have year-round symptoms. Well, the same goes for your pups; some dogs may experience an allergic reaction to food once in a great while, while others will be allergic to certain environmental factors all year. Whatever the case may be, there's a solution.
Here, you'll learn about two of those solutions; one will be a prescription medication, the other a natural remedy. See which one best fits you and your dog's lifestyle, then get started on improving your dog's lifestyle by eliminating annoying allergies.
What is Apoquel & what can it be used for?
Apoquel was created to alleviate symptoms associated with canine pruritis, a condition that produces allergy reactions such as itching and inflammation. All types of allergy reactions can be treated with Apoquel, including but not limited to food allergies, environmental allergies, and atopic dermatitis. If your dog is experiencing any of these allergy symptoms, he or she may be exhibiting signs of red and inflamed skin; such circumstances can be very uncomfortable.
We know that as humans, we can't stand dealing with our allergies. This makes it that much harder to see our beloved pup's deal with their allergies. If your dog starts to exhibit any of the following symptoms, try using Apoquel to provide allergy relief:
Sneezing
Vomiting
Paw chewing
Runny nose
Diarrhea
Constant scratching
Balding areas
Runny eyes
Scabs and sores
Luckily, if your vet does prescribe Apoquel, the medication will start to take effect in your dog after four short hours. Typically, Apoquel will work anywhere from 12-24 hours once administered.
What is the correct dosage to administer to my dog?
When veterinarians prescribe Apoquel, they tend to write the prescription for 0.4 – 0.6 mg twice a day. After 14 days, they ask that dog owners start administering the allergy medication only once a day.
Keep in mind, it is not FDA-approved to give your dog this medication after the 14 days, as it is known to suppress the immune system. What's more is that Apoquel may not even work on your dog, as it just doesn't agree with some dogs bodies.
Are there side effects associated with Apoquel?
Unfortunately, Apoquel has serious side effects that you'll have to watch out for, especially considering it can suppress the immune system during treatment. The following is a list of adverse reactions that are likely to happen to your dog:
Vomiting with or without blood
Diarrhea with or without blood
Appetite loss
Lethargy
Urinary tract infections
Skin infections
Ear infections
Lumps
Pneumonia
Aggression
Susceptible to infection
Bone marrow suppression
Before choosing Apoquel as an allergy relief treatment, think about and discuss all of your options with your vet and family members to make sure you're making the right decision.
Is there an alternative I can turn to?
Instead of going with a prescription medication that can cause harm to your dog, try something a little bit more natural: CBD oil for dogs.
CBD oil is known on the market today for its anti-inflammatory properties. Because of that, and cbd products seem to be a perfect treatment method. That's not the only benefit that CBD products can offer, though; try it out and see how it can change your furry friends' life!