Deramaxx for Dogs – Uses, Dosage, Side Effects & Alternatives
Date Published: 2019-04-18
Date Updated: 2019-04-18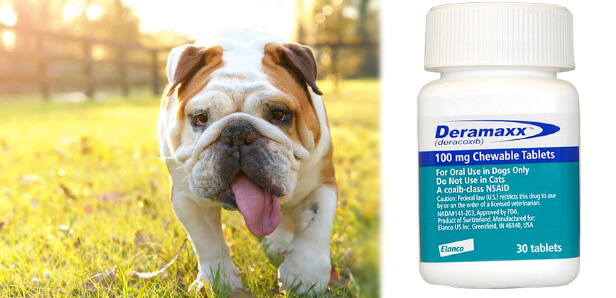 The list of anti-inflammatory drugs available for dogs is substantial, as you've probably read information on about a dozen of them so far. Once again, if you're looking for a medication to ease your dog's painful inflammatory symptoms, you can use Deramaxx.
Here, you'll learn about another pain treatment option to help your dog in their time of need. If you have any questions regarding an alternative method, rest assured, as we'll provide you with that information towards the end.
What is Deramaxx & what can it be used for?
Deramaxx is known as a non-narcotic, anti-inflammatory medication prescribed to help alleviate symptoms like fever, pain, and inflammation in dogs. Basically, Deramaxx works as an Ibuprofen-like medication to dogs.
When your veterinarian prescribes Deramaxx, he or she is likely treating ailments like osteoporosis and symptoms associated with postoperative pain. They can also prescribe this anti-inflammatory medication for any procedure or surgery associated with oral care.
What is the correct dosage to administer to my dog?
Like most prescription drugs, Deramaxx must be prescribed by a veterinarian; it cannot be purchased over the counter. However, it can currently be bought online, but it is highly recommended that you seek advice and instructions on how to administer the medication by your veterinarian. In addition, all dogs on Deramaxx should be monitored closely to make sure no adverse reactions start to occur.
When and if a veterinarian prescribes Deramaxx, he or she will write the prescription for 0.45 mg to 0.91 mg per pound, once daily. According to medical professionals, the lowest dosage of Deramaxx is the safest to use for your dog, but if he or she is going through a lot of pain and inflammation-related symptoms, your vet may up the dose.
Deramaxx is available in both oral and chewable tablets. The chewable tablets usually have a beef flavor to them to help the dog enjoy the medication he or she is consuming. Medical professionals suggest administering Deramaxx with food, even if the tablet is chewable.
Are there side effects associated with Deramaxx?
Remember how we said that Deramaxx acts as an Ibuprofen-like medication for dogs? Well, Ibuprofen doesn't' have many adverse reactions, whereas Deramaxx does.
Some of the most common potential side effects of this prescription medication are as follows:
Loss of appetite
Lethargy
Depression
Weakness
Weight loss
Change in mood
Fever
Dehydration
Vomiting with or without blood
Diarrhea
Abdominal pain
Black Stools
Anemia
Seizures
Trembling
Aggression
Nervousness
Impaired kidney function
Kidney failure
Inability to urinate
Urinary tract infection
Rash
Skin Lesions
Panting
Difficulty breathing
Nose bleeds
Rapid heart rate
Heart murmur
Slow heart rate
Glazed eyes
Blindness
Dry eye
Much more
Is there an alternative I can turn to?
As you can see, the list of side effects is quite long. Often, that scares dog owners into thinking it may not be such a good idea to administer the medication to their pets, and we understand their concern.
Instead, try CBD oil for a change. This natural anti-inflammatory medication comes with no harmful side effects, and it will likely improve all aspects of your dog's lives.
If you do have any questions regarding CBD oil, visit other areas of our site or consult with your veterinarian.