Fortiflora for Dogs – Uses, Dosage, Side Effects & Alternatives
Date Published: 2019-05-12
Date Updated: 2021-07-10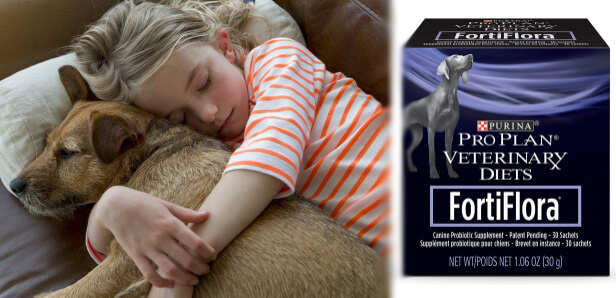 Dogs need help maintaining a healthy immune system just like we do. When we want to avoid getting sick, we drink plenty of fluids, eat balanced meals, and get some extra sleep. When they need an extra boost, we give them probiotics.
Here, we'll talk about one probiotic in particular: Fortiflora. Then, we'll give you some facts about probiotics in general, and we'll end with an alternative suggestion. We hope you're ready to learn!
What is Fortiflora & what can it be used for?
Fortiflora is a probiotic for dogs that is known to strengthen the immune system and promote healthy intestinal function. Though it's known to help control symptoms such as diarrhea in dogs, it does not agree with every single pup out there, so be mindful of this.
This over-the-counter powder contains numerous live active cultures that promote overall health. The powder contains vitamins A, C, and E, which all aid in a healthy lifestyle. Fortiflora can also be used when Your dog is:
is under stress
has eaten something he shouldn't have
has soft stools
is taking antibiotics
What is the correct dosage to administer to my dog?
Probiotic packaging typically doesn't have precise instructions on how to administer the medication, especially when it comes to dogs. Though some probiotics may state that giving an entire package is safe, like with Fortiflora, that doesn't necessarily mean it's true. All dogs are different sizes and weights, and an entire package may not agree with your dog's body. Always consult with your vet before giving your dog any probiotic, including Fortiflora.
Generally speaking, Fortiflora is a powder that should be sprinkled over your dog's food per your veterinarian's recommendations. Remember always to follow the products information label, as each probiotic has different information to communicate to you. If you do not administer the probiotic as stated on the packaging, your pup may not reap the benefits of the medication. Be sure not to miss doses, as this can alter your dog's behavior due to an upset stomach.
Are there side effects associated with Fortiflora?
Probiotics, in general, do not produce nasty side effects when administered correctly. However, giving your dog too much of a probiotic can lead to adverse reactions. If your dog starts to experience any of the following symptoms, you may want to talk to your vet about getting him or her off Fortiflora:
Extreme diarrhea
Extreme nausea
Extreme vomiting
It is not a good idea to start administering Fortiflora if your dog has a weakened immune system.
In some cases, probiotics can rapidly multiply, resulting in infection or inflammation. It's always a good idea to talk to your veterinarian before choosing to give your furry friend any probiotics.
Is there an alternative I can turn to?
If you'd like to prevent your dog from possibly experiencing diarrhea, nausea, and vomiting, you'll want to avoid giving him or her Fortiflora; though this probiotic may not be the worst, it sure isn't the best.