Milk Thistle for Dogs
Date Published: 2019-05-05
Date Updated: 2019-05-05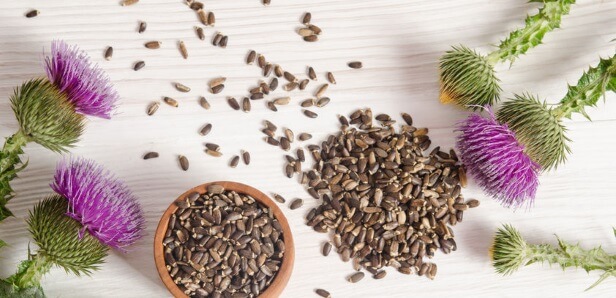 Milk thistle is known to be a "liver herb," or so that's what professionals have called it for ages. The supplement often helps both humans and pets with proper liver functioning; both holistic veterinarians and conventional veterinarians agree. In fact, both vets use milk thistle to treat diseases related to the liver all the time.
Seeing as liver diseases are common amongst older dogs, it makes sense to stay educated on the "liver herb" known as milk thistle. Here, we're going to tackle the topic so that you don't have to research all day.
A Little Bit about Milk Thistle
Milk thistle contains a flavonoid compound known as "Silymarin." Many studies have proven that silymarin aids in the treatment of liver diseases. In fact, this compound can go as far as treating conditions such as lead poisoning and kidney diseases.
Silymarin does its job by displacing toxins that are trying to bind to the liver, in turn causing the liver to regenerate quicker.
Silymarin can also work as an antioxidant to the liver. The element will stabilize liver cell membranes and help with the production of new liver cells.
What Are Some Of The Benefits Milk Thistle Can Have On Your Dog?
Liver Protection
Milk thistle is known to protect liver cells and make them stronger. New cell production is sped up, and avoidance of harmful toxins is possible with this herb.
Milk thistle can help with the following health issues:
–    Chronic inflammatory liver disorders such as hepatitis
–    Liver tumors
–    Skin problems
–    Pancreatitis
–    Fatty liver
However, milk thistle is not useful in treating the disease known as advanced liver cirrhosis.
Cushing's disease
Cushing's disease causes high cortisol production throughout the body. This chain of events puts a lot of pressure and stress on the liver, as it has to work extra hard to process the cortisol. It's actually known that dogs with this disease have elevated liver enzymes, and if left untreated, can cause severe liver problems down the road.
Talk to your veterinarian about milk thistle and what it can do for your dog if he or she is battling this disease.
Inflammatory Bowel Syndrome
Many dogs that have IBS also have problems with inflammation of the liver and pancreas. If your dog does have some of these related issues, milk thistle would be an excellent way to limit the pain and inflammation affecting your dog's body.
Is Milk Thistle Safe For Dogs?
Milk thistle is definitely safe for your dog to consume. However, you should always be mindful of how much you are administering to your dog, as too much can cause an upset stomach, gas, or even diarrhea.
Many veterinarians suggest giving the herb to dogs on an empty stomach.
Milk thistle should never be given to dogs as a daily supplement, especially if your dog does not have issues related to liver disease.
High dosages of milk thistle may cause suppression of the liver.